is a community-developed male, female and trans compatible erotic teasing and orgasm denial game used to enhance masturbation sessions. It employs instruction cards of various types to direct your sexual activities in a manner similar to how a Dominant commands their submissive. The user adds the instruction cards, along with porn images, to a slideshow and plays it in random order, following the rules and instructions as they appear.
The goal can be either to orgasm or to finish the slideshow. Compliance to the rules and instructions are ultimately up to the viewer. Many cards and their instructions focus on fetishes, kinks, and the Dominant/submissive relationship but there are cards that cater to a wide range of activities and interests. Many cards are already made, but if a desired instruction cannot be found the user can always make a new card.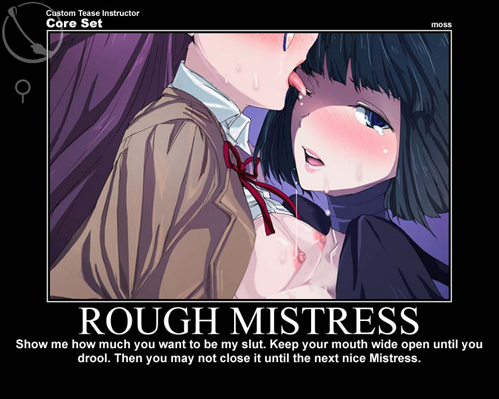 Card to porn ratio is 1:10
Add cards and porn to a slide show set on random
Slide duration is 10 seconds
Initial stroking rate is 10 per slide
No stroking during instructions
New instructions override previous
Only cum when given a Chance to Cum
Do not exit until you cum or finish the slideshow
Set your own penalties for failure
2 years after the collapse of the old community CTI was reformed with a new plan to implement a system called CTI 2. CTI 2 tries to implement a further stage of Teasing, where each card is not only a picture with a command, but can be seen as an own little program which is able to run basic commands or complex code.
CTI was originally created by the now defunct blog maleorgasmdenial.blogspot.com and it was originally about, well, male orgasm denial. Once adopted by the 4chan /d/ community, the concept became much more diverse in focus and function, catering to many sexual activities, fetishes, and anything else that contributors decided to implement. There is great potential and room for development of different cards and styles of play that are being explored as more people get involved. As of August 2010 /d/ no longer allows CTI threads, so the CTI Community forum was created as an alternative.
Special Thanks to:
Wintermute and Moss
Sites